Plain Old Telephone Service (POTs) had its heyday, but let's face it, POTS lines are starting to show their age. They only transmit voice calls, not data, which is a big limitation in today's internet-driven world. They're prone to interference, leading to poor call quality and dropped calls. Plus, the infrastructure is outdated and expensive to maintain.
The FCC saw the writing on the wall – that POTS systems just couldn't keep up with modern demands. So, they gave carriers the green light to move on from the past and embrace a more cutting-edge infrastructure. This means three things:
POTS lines are about to get way more expensive. You used to get a free pass on maintenance fees because copper was the only option for communication. But now, with new alternatives popping up left and right, providers can charge you for maintenance.
POTS lines are going to become more unreliable. As major carriers move away from POTS, they'll stop putting in as much effort to keep them running smoothly. That means more outages, more headaches, and more frustration for you.
POTS lines are on their way out. The FCC reports that the number of POTS lines dropped from 122 million in 2010 to only 41 million in 2019. At this rate, we'll have to say goodbye to POTS entirely by 2026. It's time to investigate other options.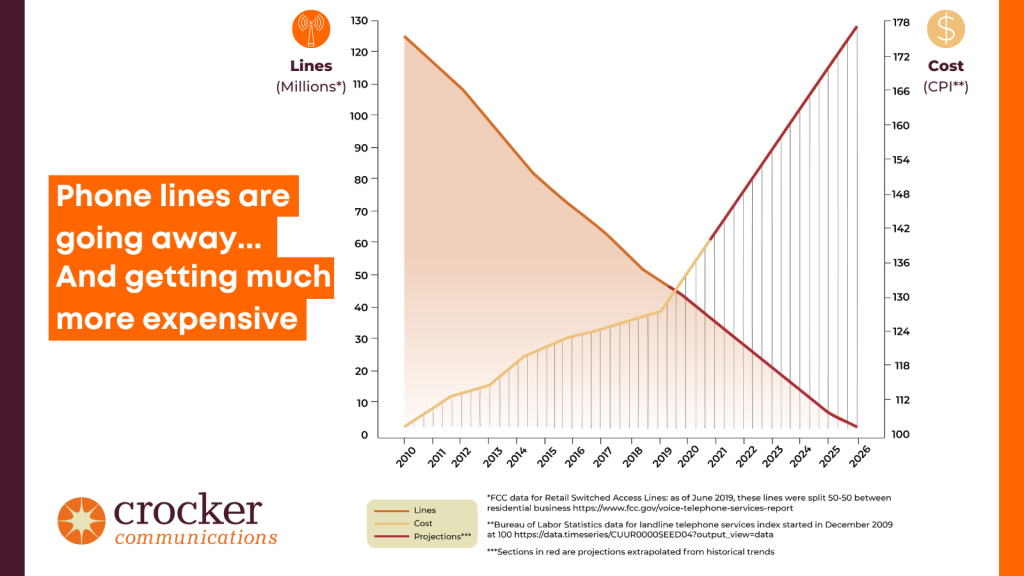 Why Choose Cloud Communications as Your POTS Line Replacement
Cloud communications solutions offer several advantages over traditional POTs lines. Here are a few reasons why you should upgrade to your POTS line replacement:  
Cut Your Phone Bills. Say goodbye to costly long-distance and international call charges with cloud communications solutions. Plus, there are no installation or maintenance fees to worry about, like with POTS.
Grow Your Business Effortlessly. Scaling your phone lines up or down with cloud communications is a breeze. You only pay for the lines you need, making it a cost-effective choice for businesses of any size. POTS lines? They can't keep up with this level of flexibility.
Work Anywhere. With cloud communications, you can work remotely, take calls on the move, or even turn your personal smartphone into a business phone. All you need is an internet connection. Good luck doing that with POTS lines!
Do More with Your Phone. Cloud communications solutions offer a plethora of advanced features that POTS lines can't match. From call forwarding to video conferencing to software integrations, the possibilities are endless.
Stay Connected, No Matter What. When it comes to reliability, cloud communications solutions reign supreme. They're less likely to experience downtime or outages. Even in the rare event of an outage, there are backup solutions in place to keep your business connected. You can't say the same for POTS lines.
Making the Switch to Cloud Communications
If you're ready to find the perfect POTS line replacement, the first step is finding a reliable cloud communications provider that meets your needs. Here's what to look for in a provider for your POTS line replacement:  
24/7 technical support. No more waiting on hold for hours or troubleshooting issues on your own. With a reliable provider, you'll have help whenever you need it.
Flexible pricing plans. Say goodbye to fixed, inflexible pricing plans that don't fit your unique business needs. A good provider will offer a range of options to choose from.
A range of advanced features. Cloud communications offer a range of features that POTS lines can't match, such as video conferencing, instant messaging, and file sharing.
High-quality audio and video calls. With cloud communications, you'll enjoy crystal-clear audio and video calls, even across long distances.
Once you choose your provider, they'll help you set up your new cloud communications system. It's quick and easy, and before you know it, you'll be up and running with a great POTS line replacement that meets all of your needs.
Find the Perfect POTS Line Replacement with Crocker
Let us be the provider of your dreams for your POTS line replacement! Contact Crocker Communications today to schedule a consultation and learn how we can help you replace your outdated POTs lines with our cloud communication services. They're reliable, secure, and cost-effective. So, what're you waiting for? Upgrade your communication system now!