Mount Washington flips switch on fiber
MOUNT WASHINGTON — The tiniest town in Berkshire County (and the third smallest in the state) boasted a mighty triumph late this week when engineers finally flipped a virtual switch that took Mount Washington from the dark ages to the technological enlightenment.
In the span of about 24 hours, Mount Washington went from having no broadband internet at all to having the bragging rights to the highest speeds in the county. Most people in the town who signed up will have access to speeds of 500 megabits per second, up and down.
"We are thrilled," said Eleanor Tillinghast, who lives with her husband Morgan Bulkeley on East Street. "We're going to be the envy of everyone."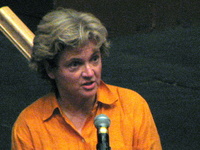 To give you an idea of how starved Mount Washington was for legitimate broadband service, Tillinghast said Friday (the day she de-activated her satellite account and the new service was activated) was her wedding anniversary.
"He asked me if I wanted to go out to dinner," Tillinghast said of Bulkeley. "I told him I wanted to go home and switch over our service. That would be much more exciting."
In an interview on Friday, Brian Tobin, a member of the Selectboard in this town of some 150 full-time residents, said almost everyone who signed up for the service — totaling about 100 residences — had been switched on, with the exception of a couple of new homes under construction that did not yet have full electrical power.
"Everybody who signed up and was ready, got it," Tobin said, adding that about 40 opted out. "It's lightning fast."
Faster even than what he gets for service in the Manhattan apartment he also maintains with his husband Bill Short. That usually clocks in at about 117mb down. One remarkable aspect of the Mount Washington service is that it has synchronous data transfer speeds. That means upload and download speeds are the same. Most consumer internet service providers offer upload speeds that are about 10 percent of the download speeds.
Town Clerk and Selectboard Chair Gail Garrett said as of late last week, technicians were "still ironing out a few kinks," but she sent out a mass email to 100 different homes and so far the reaction has been, "Wow. Great!"
It been a relatively brief but challenging road for Mount Washington to get to this point. The $750,000 project was envisioned about 10 years ago but got started last year in earnest when taxpayers at a special town meeting unanimously approved a proposal to spend up to $700,000 for the project.
The Massachusetts Broadband Institute (MBI) approved a $230,000 grant to be used toward the project. There was some additional funding from the state Executive Office of Housing and Economic Development. Tobin said the rest will be paid for through a combination of reserve funds and borrowing.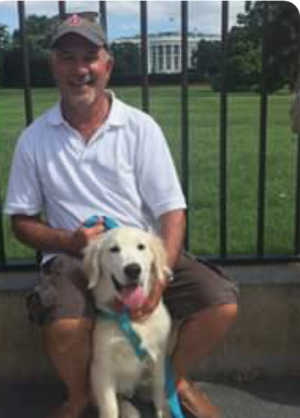 Then there was the matter of how to structure the town-owned service. The town needed a so-called home-rule petition, which was approved by a majority of taxpayers at a special town meeting. From there, it went to state lawmakers on Beacon Hill, where it was referred to the Joint Committee on Telecommunications, Utilities & Energy, which gave it a favorable report.
The Senate chair of that committee was former Sen. Ben Downing, who represented Mount Washington before retiring last year. Downing's counterpart in the state House of Representatives, William "Smitty" Pignatelli, joined him in filing the petition.
The legislation, which eventually became law, authorized the town to establish, own and operate a broadband infrastructure project and bond for up to 20 years without establishing a municipal light plant.
An MLP is essentially a municipal utility that would be governed by its own board of directors — something both Tobin and Downing said would be too burdensome for a town of only 140 full-time residents. So the legislation allowed the town to run the fiber-optic data network through the Select Board.
Internet service in Mount Washington was severely limited. The is no DSL or cable service because of the town's isolation in the extreme southwest corner of the state — a rugged, mountainous enclave tucked between Salisbury, Conn. and Copake Falls, N.Y.
So residents of the "Town Among The Clouds," as Mount Washington markets itself, by necessity counted on satellite or long-range wifi, neither of which is very dependable. And cell phone service is virtually nonexistent, rendering high-speed cellular data services such as LTE a nonstarter.
The new service is provided by Crocker Communications, with whom the town has signed a service contract. Consumers will pay $120 per month for Internet and one phone line. Crocker, which will also handle billing for the town, is available for technical support 24/7, Tobin said, adding that he is convinced that the enterprise is sustainable because of the revenues from subscribers.
The network itself was built out by the NextGen Group, an Australia-based international telecommunications company. Crocker will monitor the network while NextGen will maintain it. If Crocker detects problems or hears about them, the company will alert the town and NextGen, Tobin said.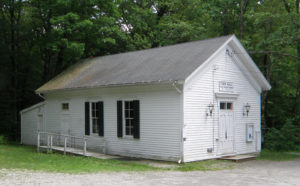 Crocker was also the original provider for the town-owned Internet utility in the Franklin County town of Leverett, which is considered the gold standard among western Massachusetts municipalities with town-owned broadband. OTT Communications is the current customer-level internet service provider for Leverett.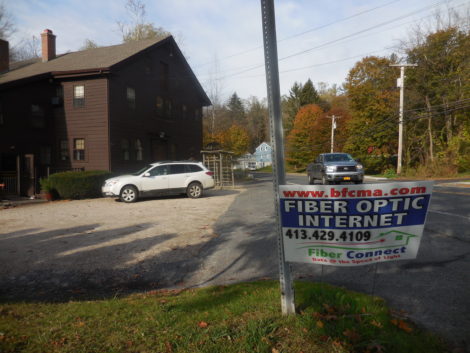 Mount Washington is the first municipally-owned broadband utility in Berkshire County, though similar projects are in the works in other towns, including Otis and Alford. Unlike Mount Washington, however, those two towns had to establish and staff MLPs.
Meanwhile, the speeds continue to amaze those who have witnessed them. Selectman Jim Lovejoy said so-called "middle mile" service has been available in Town Hall for a couple of years, yielding speeds of about 5mb up and down. But the new service brings the experience to a whole new level.
"I'm enjoying taking the speed test and pinging the little meter all the way to the end," Lovejoy said. "It can't test as fast as we get."
If you're a Mount Washington subscriber using a device connected via wifi, then your speeds will be slower because some throughput is lost over wireless connections. And it also depends on the condition of the equipment you have. Crocker provides a state-of-the-art modem, but an older model computer or device — or an antiquated wifi router — can slow down your experience, Lovejoy explained. To test your own speed using Speakeasy, click here.
Mount Washington resident Jeb Rong is an electrical engineer with an IT background who has put in many hours working on the project. In an interview, Rong said the process started in the spring of 2013 when a small broadband working group was formed and "started looking into different options, technical design, development costs."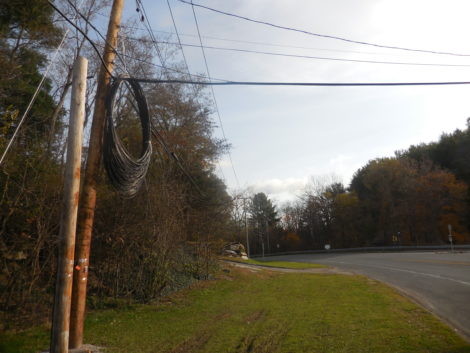 The town and many others were impatient with WiredWest, a nonprofit cooperative that had signed up dozens of towns to build and operate a shared broadband network. Tobin said the town was also uneasy about Wired West's business model. So Mount Washington decided to go it alone.
"We were terribly underserved, so we decided a long time ago we would not go the WiredWest route," Tobin said. "We wanted to preserve as much autonomy as possible, and it means we could be quicker out of the gate."
Though to be fair, a recent analysis of WiredWest by Harvard University's Berkman Center for Internet and Society, however, shows significant cost advantages of regional fiber networks over stand-alone town networks. Still, Mount Washington wanted to cut through the red tape.
"It's been a very long process," Rong explained on Friday. "But so far the reaction from people is amazing. Last night, I helped a homeowner transition from Wi-Spring — the speed was maybe 1.5mb — and we tried out Netflix and the content came through instantaneously. It was very fine, jaw dropping, really."
The impact on the town, beyond broadband speed itself, remains to be seen. Garrett says 80 percent of the land within the town's borders is protected, either because it's owned by the state or the Nature Conservancy or it's protected by conservation restrictions. So a building explosion is unlikely.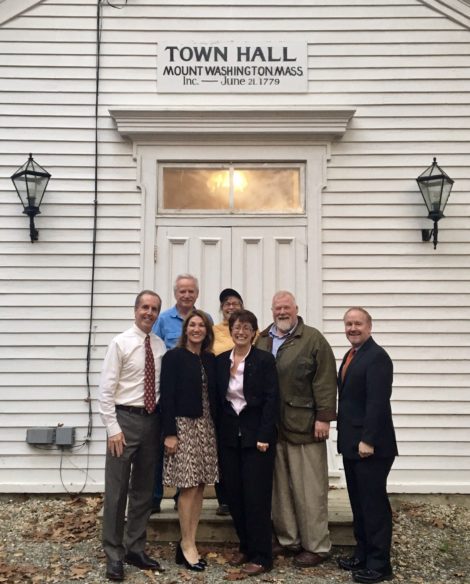 Elected officials and other dignitaries were in front of Town Hall Oct. 11 to celebrate a state grant received by Mount Washington, though much of the time was spent talking about the new broadband service. The delegation included state Rep. William "Smitty" Pignatelli, Selectman and Town Clerk Gail Garrett, Selectman Jim Lovejoy, and Lt. Gov. Karyn Polito in the front row.
But there is no doubt that homes in Mount Washington will be more valuable now that it's no longer in the Stone Age of the technology revolution. Garrett says more properties than usual have been selling in the town, a phenomenon she attributes to the new broadband service.
Tillinghast is convinced that her East Street home will become more valuable not only because will it be more attractive to live in full-time, but broadband speeds — much higher even than in towns such as Great Barrington that are served by cable — will make telecommuting a viable alternative for New Yorkers and others who want to work remotely for part of the week.
"This is going to be a radical change for all us," Tillinghast said. "Everybody's talking about it."
"People may have ruled Mount Washington out before," added Tobin. "But we just catapulted ahead of other towns in terms of amenities."
Last week, Lt. Gov. Karyn Polito visited Mount Washington, ostensibly as a celebration of a $580,000 MassWorks grant to repair and improve East Street, the town's only direct route between Massachusetts and Connecticut, which is vital for the regional workforce. The conversation, however, quickly turned to the town's new broadband service, which was then scheduled to be activated in only a few days.
Lovejoy said, "I give the citizens a lot of credit in town because they had the confidence in us that we could see this thing through."
"Considering the size of our town, to get one of the fastest internet connections in the country makes us proud," added Rong, who also sits on the town's board of assessors.
Tobin said he thinks any history of the town written from here on out will have two distinct periods analogous to B.C. and A.D.: "There will be 'before broadband' and after broadband."